Artist: Sabine Berg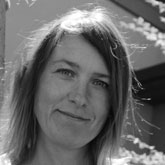 Sabine Berg was born in Germany in 1968 into a creative family. Her grandfather was a painter, her father a musician and her mother a decorator.
Sabine studied art and design in Hamburg, and worked as Art Director in a leading advertising company and at two major publishing houses before relocating to Canada in 1996.
Today Sabine lives on beautiful Vancouver Island, a very inspirational place she fell in love with, while travelling through the Rockies and along the West Coast in 1999. She enjoys nature, the beauty of her surroundings and the abundant wild life.
Her style combines natural scenes, shells, birds, animals and botanicals with illustrations. She likes to reflect her love of nature in her works.
Sabine works in Acrylics, Watercolor, Ink, Pen, Photography, and Digital. She enjoys creating collages for cards and posters.
Sabine works as Graphic Designer and Art Director in Victoria, and is also a proud mother of one creative girl.